Finding the right gift for someone struggling with mental health is hard
Finding the right gift for someone struggling with mental health can be a delicate endeavor.
It's about striking a balance between offering comfort and acknowledging their journey without overlooking the challenges they face.
Traditional gifts might not always convey the depth of understanding and empathy needed in these situations.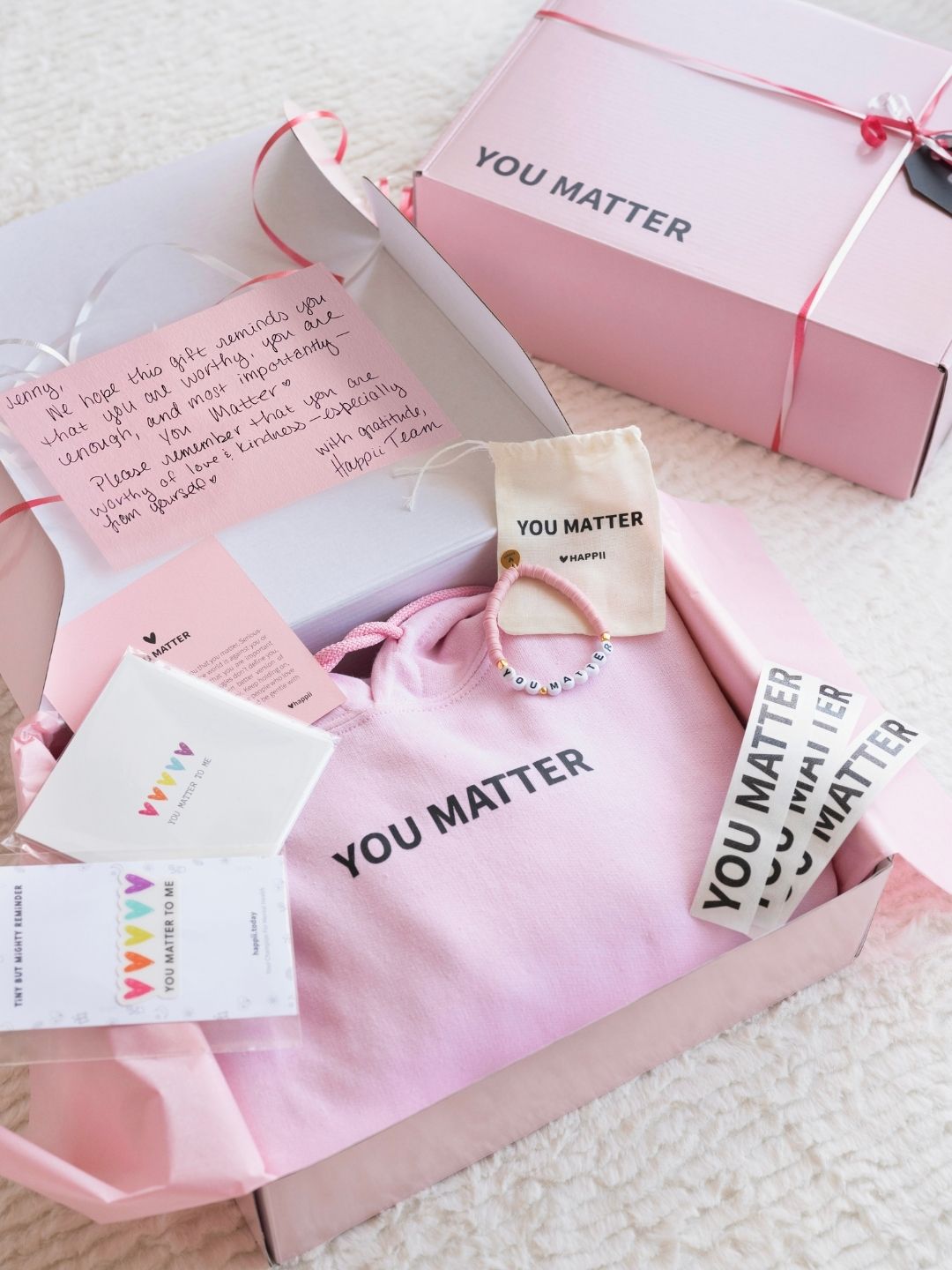 A hug in a box
Thoughtfully crafted, this gift box is more than just a collection of items; it's a profound affirmation of their worth, just as they are.
Each piece in the box is designed to inspire self-acceptance and kindle hope.
Shop Now
Why Happii Gift Box is the perfect gift for your very special person
Gifts that Give Back
Each purchase of our gift box contributes to a world filled with compassion and hope. 15% of net profits donated to vital mental health resources and support.
Gift That Will Bring Her to Tears
The encouraging note made me cry like maybe they have even a small idea of how difficult the fight is sometimes. Words aren't really doing justice to how I feel getting all this. I'm so glad they donated a portion of the price of my shirt to the American Foundation for Suicide Prevention. Thank you so much Happii. 💜
I was always ashamed to say I had anxiety because I felt it made me less than everyone else.

Finding your apparel has allowed me to no longer hide who I am.

I thank you for giving me the strength to be honest and open with my anxiety and the struggles that are associated with it. I have learned that I am good enough even if I have anxiety.
This semicolon dog message gives me hope that I can get through this hard time. Sometimes those around you cannot understand your grief and sadness. It helps me to know other people out there understand that it doesn't matter why you are sad, just that you are and you need encouragement. Thank you!
You guys made me cry happy tears.

This week had been exceptionally hard with the most self-harm thoughts I've had in many years.

Your little presents 🎁 were just what was needed. I put the affirmations all over my room!!🥰 Thank you SOOOO much for all the sweet little surprises you added to my purchase.
I am overjoyed with my purchase of my KEEP GO;NG semi-colon sweatshirt!!!!! I received my order super quickly and when I opened it and found the beautiful affirmation cards….it brought tears and I am so happy I contributed to such a great cause! You guys are awesome!!!!!!! Thank you so very much!
I love my KEEP GO;NG sweatshirt. The color is beautiful, it's so soft and means so much to me every time I wear it and look at it. I ordered it in honor of my nephew who took his life. I hope and pray for everyone that is struggling, that they can just Keep Go;ng one minute, one hour, one day, one week until they can get the strength and help they so desperately need and deserve.
I love my [Talk a Little Nicer to Yourself] shirt! Someone stopped me yesterday in line at Costco and said, "that's a message we all need to hear! What a great shirt! I'm going to tell myself that today." Mission accomplished!
Our teenage daughter has been battling an Eating Disorder. When our order arrived, everything was beautifully wrapped in pink tissue paper with heart stickers. There was a personal handwritten note of encouragement and cards with inspiring messages. What a bright spot as we transitioned our daughter out of the treatment center with new hope for an independent anxiety-free life. Thank you!
I love this sweatshirt and its message! Wearing it, helps me come out of the darkness!!
I bought KEEP GO;NG hoodie as a gift for my son, who survived a suicide attempt. He's come a long way, and I hope that this will always remind him that his story is not finished and that there is always help. Hoping he is able to turn his mess into a message for others.
Sweet Add-Ons
Sprinkle extra love with these add-ons
Mental Health Sweatshirts
Soft big hugs for your good days and bad days. Hoodies & crews.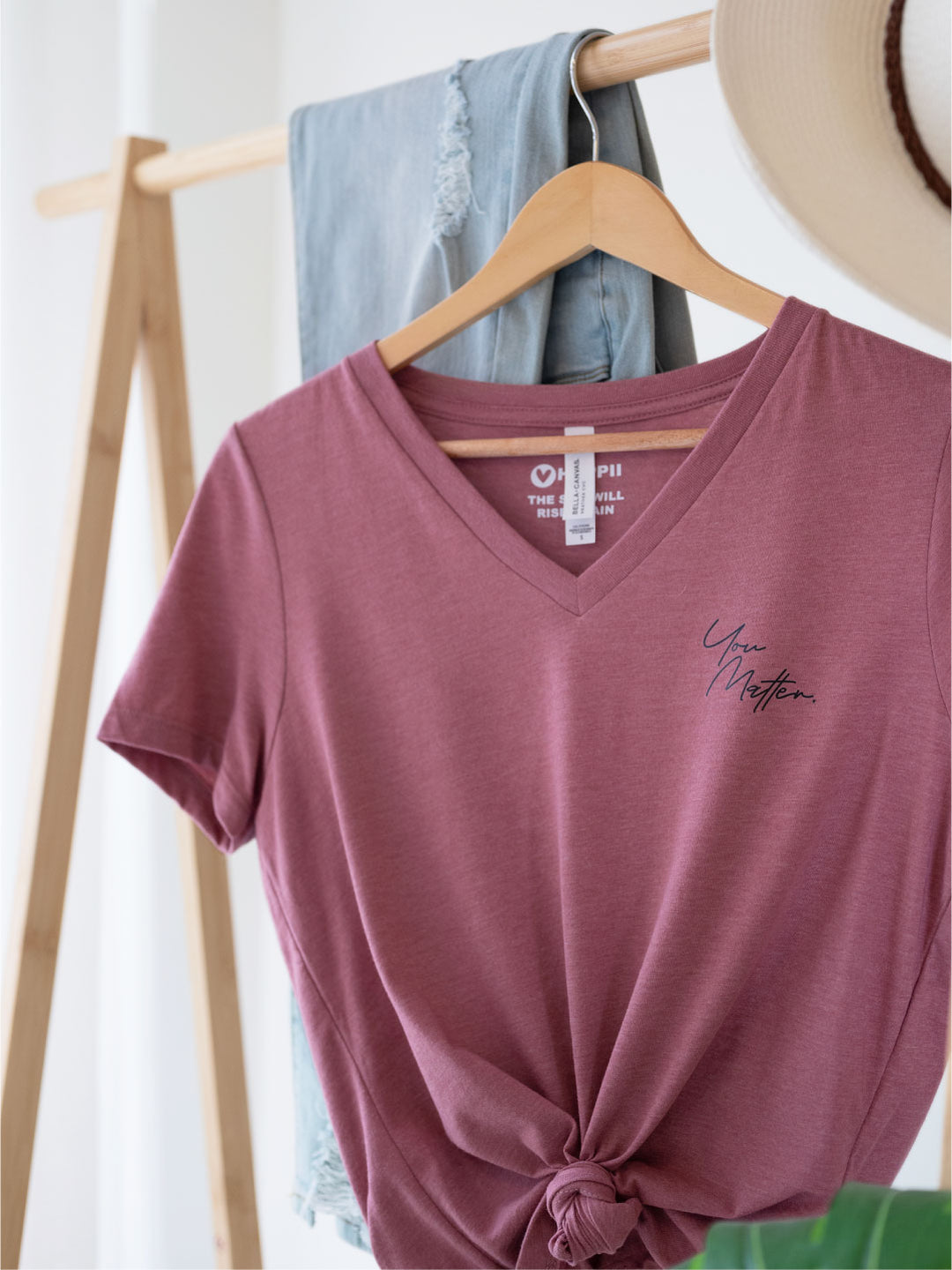 Mental Health T-Shirts
Comfy shirts that inspire love, kindness, and strength.