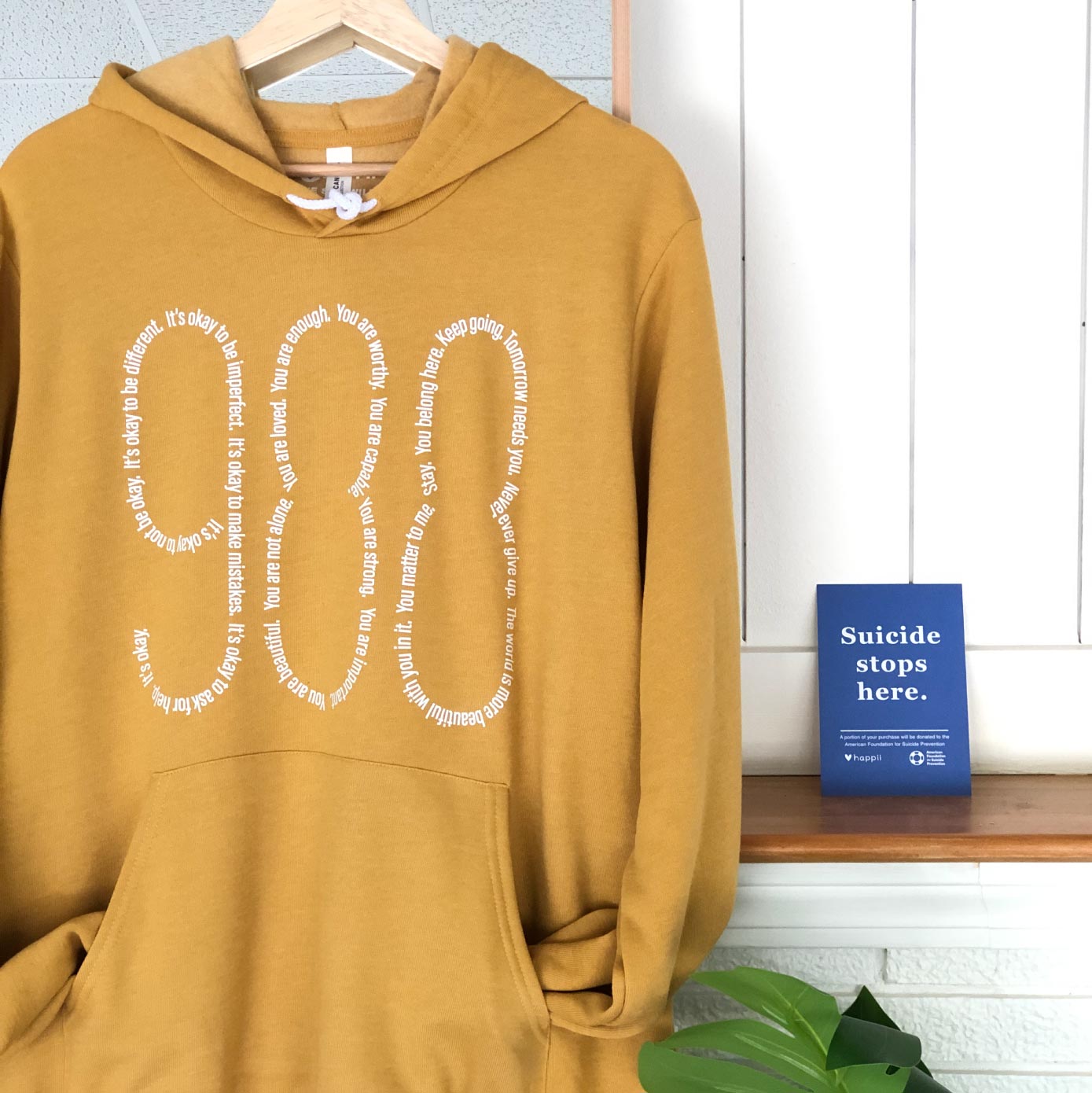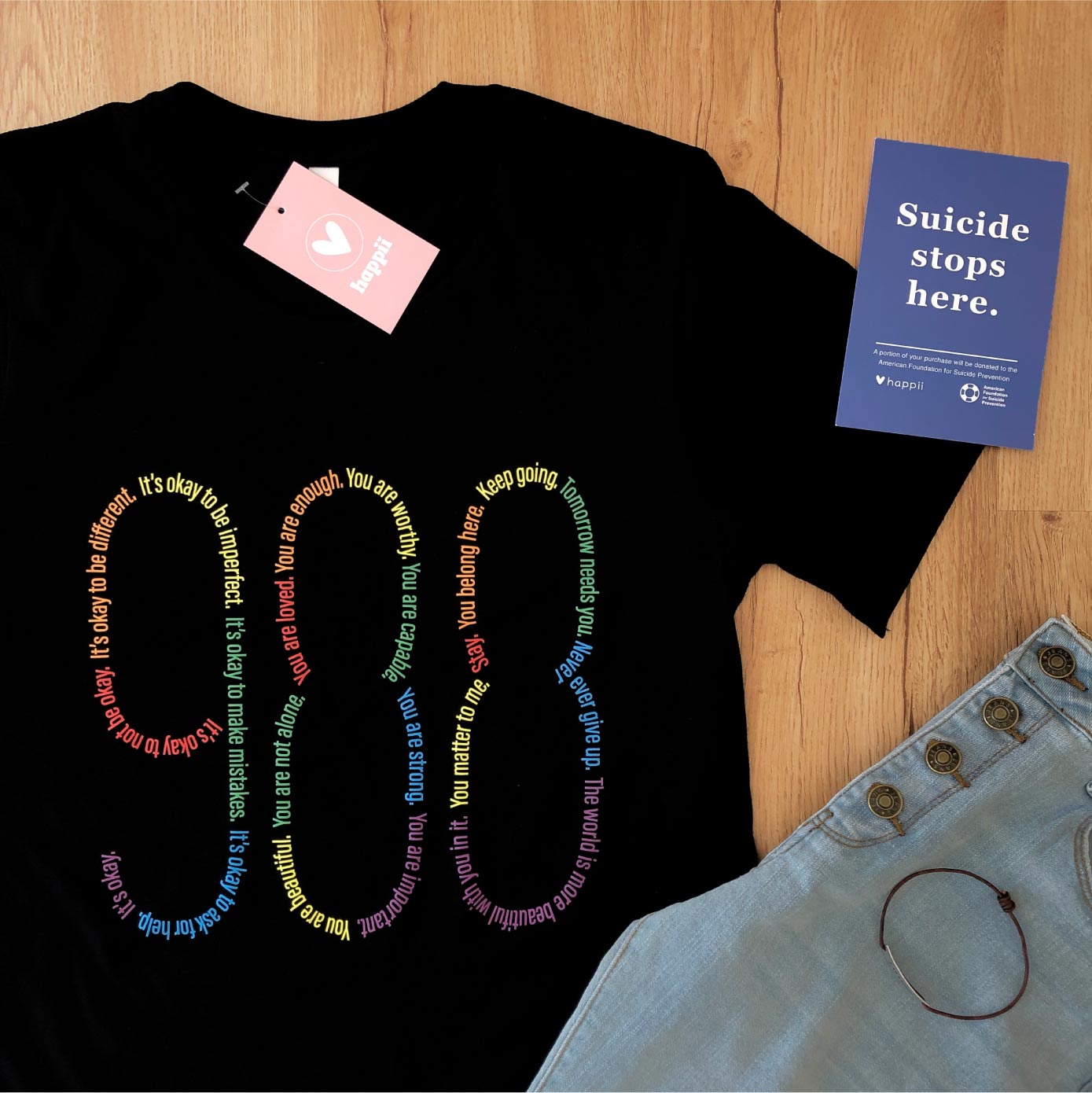 988: A New Suicide Hotline
988 is the new three-digit number for mental health and suicidal crises. 988 hotline became available nationwide on July 16, 2022.
When you call or text 988, you'll be connected to trained crisis counselors who can de-escalate and/or provide support.
Calls to 988 will be connected to the existing National Suicide Prevention Lifeline network (1-800-273-8255), but 988 is much easier to remember.
Easy access to help in those vulnerable moments can save lives.
For more information, please visit 988lifeline.org

988 Collection
Easy access to help in critical moments can save lives. Raise awareness with our 988 collections ❤️
Message of Acceptance, Self-Love, and Hope
Each number in the 988 is made up of positive affirmations that we wanted to hear during our most vulnerable moments.
'9' consists of
It's okay to not be okay.
It's okay to be different.
It's okay to be imperfect.
It's okay to make mistakes.
It's okay to ask for help.
It's okay.
The first '8' consists of
You are loved.
You are enough.
You are worthy.
You are capable.
You are strong.
You are important.
You are beautiful.
You are not alone.
The second '8' consists of
Stay.
You belong here.
Keep going.
Tomorrow needs you.
Never ever give up.
The world is more beautiful with you in it.
You matter to me.
Beautiful Reminders for Your Mental Health Journey
Fighting an invisible battle with your own mind is a lonely and scary journey.

Happii is run by women with their own battles, and we're here to champion you on your journey.

Conquer your inner critic and find the strength to keep go;ng with our beautiful reminders.
We're here for you until you love yourself again.
Love Yourself Again
Did you know that negative self-talk can worsen anxiety and depression?
By using positive affirmations and reminders (like our products 😏), you can stop negative cycles and redirect your mind.

You can learn to love yourself again.
From Our Customer
"I knew getting this shirt in the mail would be emotional, I just underestimated the extent. I was touched just opening the package and seeing goodies in an envelope with my handwritten name on it and my shirt beautifully wrapped in pink tissue paper with a heart sticker...

The encouraging note on my order sheet made me cry like maybe they have even a small idea of how difficult the fight is sometimes. Words aren't really doing justice to how I feel getting all this. I'm so glad they donated a portion of the price of my shirt to the American Foundation for Suicide Prevention. Thank you so much Happii. 💜"
Feel Good, Look Good, Do Good
$65,000+ Donated. Over 10,000 Free Cards & Stickers Delivered.
For each t-shirt you buy, we give one happii pack to a school and donate a portion of the sales to mental health charities.
Not only are you getting a beautiful and meaningful piece, you also become a champion for others in the darkness!
Learn about our partnership with the American Foundation for Suicide Prevention, our donation history, and what's in a happii pack!
Most Loved Reminders
Discover the heartwarming magic of our Most Loved Reminders, cherished best-sellers with raving customer reviews.
New Reminders
Explore uplifting new reminders!